Introduction
The AudioMark™ benchmark will characterize real-world audio-processing performance, and target a wide range of embedded platforms with a configurable set of behavioral parameters and a highly-portable API.

AudioMark Overview
The typical audio pipeline of today combines technologies that date back to radar and RF broadcasting of the early 20th century--such as beamforming and direction of arrival--as well as more modern filters like acoustic echo cancellation and noise suppression. Keeping in line with recent tech trends, we've added a neural net to perform keyword-spotting or wake-word classification. AudioMark will exercise different data formats, increase the instruction cache demand, and even allow integration of acceleration such as DSPs or other dedicated audio hardware. However, it will be sufficiently balanced to not allow any one technology to dominate.
The diagram below illustrates a rough outline of the benchmark's pipeline (excluding physical transducers):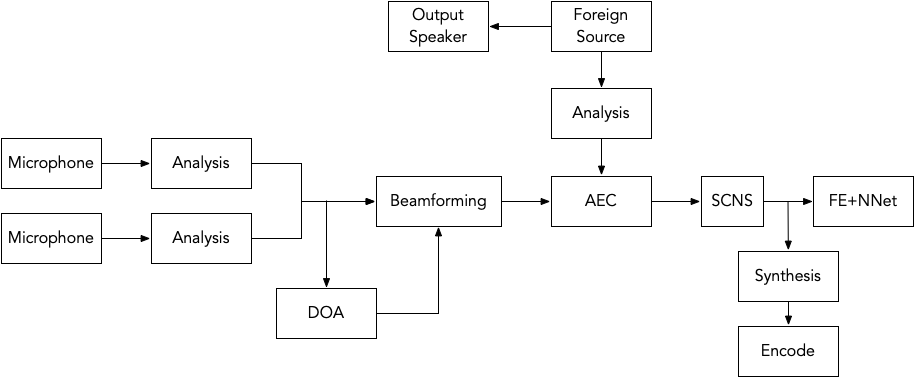 The key components will consist of:
Spectrum decomposition analysis
Direction of arrival
Beamforming
Acoustic echo cancellation
Single-channel noise-suppression
Feature extraction
Neural net classification
Synthesis
Encoding
Working Group Status
The working group is actively developing this benchmark. It is in the planning phase, where the basic architecture has been outlined, and the specific behavioral characteristics and parameterization, as well as API, are being defined.
Join the Working Group
Join the EEMBC AudioMark benchmark working group to:
help determine the exact details of the next AudioMark benchmark;
ensure the benchmarks are representative of all possible scenarios; and
avoid a competitive disadvantage!
Email EEMBC or click here for more information.