---
Topics
ADASMark™
EEMBC Member Recognitions
Recent Certified ULPmark Scores
SecureMark®
EEMBC on LinkedIn
CoreMark® Scores and Power Metrics
CoreMark® Apache License
---
ADASMark™ Benchmark Suite Now Available
EEMBC's ADASMark™ autonomous driving benchmark suite is now available for licensing. The benchmarks provide a performance measurement and optimization tool for automotive companies building next-generation advanced driver-assistance systems (ADAS). Learn more . . .





Outstanding Contributions From EEMBC Members
EEMBC has honored 17 members whose contributions over the last year have gone above and beyond in making the organization the industry's standard bearer for benchmarking. The honorees were recognized for their generous work in the ULPMark®, IoTMark®, SecureMark®, ADASMark™, and Machine Learning working groups, and for their contributions to the greater good of the industry. Learn more about the efforts of these engineers in this press release.
New Certified ULPMark Scores From Analog Devices and Microchip Technology
Analog Devices' ADuCM4050 and Microchip's ATSAML10E16A and ATSAML11E16A are the latest low-power MCUs to receive certified EEMBC ULPMark scores, which both companies now display at the at the top of the datasheets for their respective devices. Analog Devices' ADuCM4050 MCU includes an ARM Cortex-M4 core with floating-point unit, expanded SRAM, and embedded flash memory. Microchip's SAM L10/L11 devices are ultra low power 32-bit Cortex-M23 MCUs with TrustZone for ARMv8-M, cryptography accelerators, and enhanced PTC. See score details for these and other devices on the EEMBC ULPMark score page.
SecureMark® Benchmark Now Available for the TLS Protocol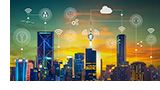 EEMBC's SecureMark®-TLS benchmark is now available for licensing. Part of the SecureMark benchmarking suite for measuring the efficiency of cryptographic processing solutions, SecureMark-TLS focuses on the Transport Layer Security (TLS) protocol for internet of things (IoT) edge nodes. Learn more . . .



Join EEMBC on LinkedIn
EEMBC is getting social. Follow us on LinkedIn to see our latest news, make connections with other members, and find stories you'll want to share with your own LinkedIn connections.
CoreMark™ Scores and Power Metrics: Defining the Relationship
More than a dozen processor vendors quote some type of electrical metric(s) associated with their CoreMark scores. Some have provided very detailed white papers describing the methodology behind these measurements; others mention no methodology at all. Units vary dramatically as well.
EEMBC's Ultra-Low Power (ULP) working group is addressing this issue by developing a standard set of rules for how CoreMark is run when being used to report power, current, or energy metrics.
While EEMBC outlined a method for associating CoreMark scores with power metrics a decade ago, it lacked a standard hardware apparatus and codification. The ULP working group seeks to more succinctly and authoritatively define this process within the IoTConnect™ framework used for ULPMark®, IoTMark® and SecureMark® products. Although the framework is limited to 50 mA of current, this is at least two orders of magnitude (or more) larger than all of the embedded numbers quoted in datasheets, making it a suitable target of standardization in the embedded space.
The initial research is done, and the development team is iterating on prototypes while the rest of the group works toward a consensus strategy, including awareness of the implications to announcing this standard.
Apache License Available for CoreMark®
EEMBC's CoreMark® benchmark software is now available for download on GitHub under the Apache license to facilitate inclusion into other larger benchmark collections, such as Google's PerfKit. The new, more user-friendly arrangement replaces the previous click-through license. In addition to the Apache boilerplate, the license includes an Acceptable Use Agreement to ensure modifications remain consistent with the CoreMark brand identity.
Follow us on Twitter.
Visit us on Linkedin.
---
If you do not wish to receive e-mail from EEMBC, you can un-subscribe below. EEMBC sends no more than one e-mail per month to registered users at www.eembc.org. Continuing your subscription ensures you'll be notified when new scores and other important announcements are available.