About AndEBench
EEMBC Brings Order to the Chaos of Android™ and Browser Benchmarking

The AndEBench™ benchmark provides a standardized, industry-accepted method of evaluating Android platform performance
Targets smartphones, portable gaming devices, set-top boxes, or anywhere Android is employed.
Compatible with development platforms and finished commercial devices
Free download in the Google Play and at the Amazon Appstore for Android
Easy to run – just the push of a button
---

General Features
Initial focus on CPU and Dalvik interpreter performance
Internal algorithms concentrate on integer operations
Compares the difference between native and Java performance
Implements flexible multicore performance analysis
Results displayed in 'Iterations per second'
Detailed log file for comprehensive engineering analysis
---

Advanced Features
Source code available for EEMBC members and licensees
Adjustable benchmark parameters support experimentation
---

AndEMark™
The AndEBench™ produces two scores: AndEMark™ Native performance and AndeMark™ Java performance.
The scores are represented as iterations/sec, and the higher the score, the better.
---

EEMBC encourages all vendors and manufacturers to join the consortium's working group
to contribute to future AndEBench versions.

Benefits processor vendors, system developers, and any other company in the Android platform food chain
Future versions could include stress testing for features and functions such as OS layer calls, graphics, audio, networking, floating point, and more.
---

Download
---

Google Support Group
---

AndEBench Working Group
To join the AndEBench working group or gain access to the source code for AndEBench, contact Markus Levy.
AndEBench 2.0
The consortium's working group will focus on both hardware- and platform-level tests.
The hardware tests will include algorithms and applications to stress CPU, GPU and memory sub-systems performance.
The platform tests will replicate the performance of Android applications by using common services that many of these applications use; these services include GUI rendering, XML parsing, image operations, and cryptography.
The AndEBench working group is led by Ronen Zohar, Principal Engineer at Intel Corporation.
AndEBench 1.0 Screenshots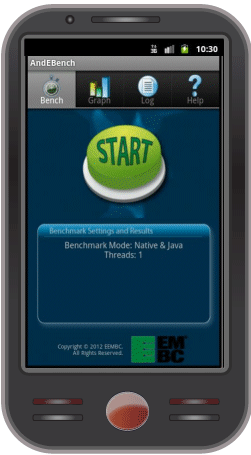 EEMBC AndEBench™
BenchMark Suite Help
AndEBench™ 1.0 focuses on CPU
and Dalvik interpreter performance.

Prior to starting the benchmark:
1. Attach your device to AC power
2. Put the device in airplane mode
3. Turn off the WIFI function
4. Close all other apps that are running (if possible)

Press the START button to start the benchmark operation.

Refrain from playing with the device under test while the benchmark is running (indicated by the moving hourglass).

When finished, the Benchmark Settings and Results will show the operation mode (Native, Java or Both), the number of threads that were used, and the score(s). The LOG tab will show detailed information
about the benchmark run.

To modify the settings, select settings from the menu.

Mode:
- Native for native execution only.
- Java for java execution only.
- BOTH to execute first in native mode and then in Java.

Threads:
- One for single threaded execution.
- Multi for multi-threaded execution
on all available contexts.
- Edit to manually enter number of threads
to use in the # of threads box.

ADVANCED FEATURES (EEMBC members and licensees only)
- Click on Advanced button, you will be prompted for a password.
- Iterations :
- List Size : How many elements will be used for list processing.
- Matrix Size : How big (NxN) will the matrix be for matrix processing.
- State Size : How big will the buffer be for the state machine.

Please note, advanced settings change
the workload being run, and will NOT
result in a score on the main screen.
The log screen will show detailed results
including the non-standard score.